What people like about Regatta Point Villas
Dedicated association office on premises? - Yes
Auto generator? – Only one that powers the grey water system to flush toilets
Gated? - Yes
Security guards? – No
Dogs permitted? – Yes – up to 25 pounds, case by case.
Hurricane insurance included in condo fees? – Yes
Pool? – Yes – use of three pools
Tennis? – Yes
Beachfront? - No
Area Details
On the south shore of St. Thomas, Regatta Point Villas are situated on a knoll overlooking Bolongo Bay. There are a total of 75 units at the Regatta Point Villas, broken down between one-bedroom units, 2-bedroom units and 2-bedroom units with a loft. The complex was built in the 1970s and is governed by two separate governing bodies, although costs and amenities are shared.Regatta Point condominiums are gated and offer owners the use of a tennis court and  four freshwater pools – the Garden Pools, Sea Cliff pool, and Watergate Pool.  In the courtyard at Regatta Point is a large pool and deck; down the path is the tennis court.
One tier below Regatta Point Villas is Sea Cliff Villas, a condo complex that shares a security gate with Regatta Point; and alongside Sea Cliff is a complex called Watergate East.  The three condominium complexes have a reciprocal relationship whereby residents are allowed to use each other's pools as well as the Regatta Point tennis court.
There's also a path that leads down to Bolongo Bay Beach Resort, where you'll find a long sandy beach for swimming, as well as a range of dining opportunities. Iggie's Beach Bar and Grill is oceanfront on the bay and is a great stop for a burger, fries and a beer.  Or, dine at The Lobster Grille, also on the ocean.  Stroll down the beach and you'll find Mim's Seaside Bistro with specializes in seafood.  It's not too common to be walking distance to restaurants on St. Thomas!
With downtown Charlotte Amalie 5 minutes to the west and Red Hook's shopping and restaurants 5 minutes to the east, Regatta Point is well situated for convenience. In Red Hook, you can catch the hourly ferry from St Thomas to St John or venture over to the British Virgin Islands.
Best of all, if you're a dog lover, you can bring your pooch, as long as it weighs less than 25 pounds.
Explore Regatta Point Villas & Condo Listings in St Thomas, USVI or contact a Sea Glass Real Estate Professional for more information on Regatta Point, USVI.
Regatta Point Villas Links and Resources
Regatta Point Villas
Market Stats
Follow the Market Updates on Regatta Point Villas
Alerts
Regatta Point Villas
Local Info
·      Restaurants – Three restaurants catering to different budgets are within a short beachfront stroll of Regatta Point.
·      Proximity – Regatta Point is 10 minutes in either direction to downtown Charlotte Amalie or Red Hook, with all its shopping and restaurants.
Regatta Point Villas
Featured Listings
SOLD
X1X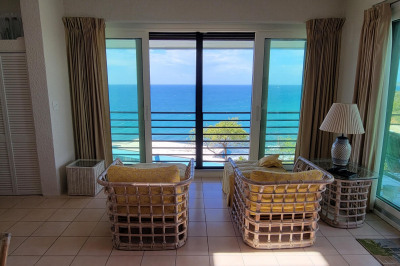 34
SOLD
X1X
4
SOLD
X1X
16