What people like about The Pinnacle
Dedicated association office on premises? - No
Auto generator? - Yes
Gated? Yes
Security guards? – No, but a camera system.
Dogs permitted? – Yes
Hurricane insurance included in condo fees? – Yes
Pool? – Yes
Tennis? – Yes
Beachfront? – No
Area Details
The Pinnacle is an exclusive choice for condo buyers. It's gated, with lovely landscaping, a large pool and a tennis court. But the Pinnacle is truly set apart by its location over the Charlotte Amalie harbor, which means you enjoy dazzling views, day and night.  The lights from the harbor are nothing short of romantic.  That, along with the comings and goings of the cruise ships make your morning coffee and evening drinks a very special pleasure from your Pinnacle deck.
The Pinnacle's five buildings spread over two tiers are sleek and attractive, and the 15 units in the complex have a modern and spacious feel.  The master bat­hrooms in the units are known for a his & hers entrance with individual toilets and vanities, and a shared shower in between. The square footage of the condominiums ranges from just over 1,800 feet for a 2-bedroom to more than 2,200 feet for a 3-bedroom unit.  There is one 4-bedroom unit.  Some units are two story townhomes.
The Pinnacle
Market Stats
Follow the Market Updates on The Pinnacle
Alerts
·      The Pinnacle is just up the hill from the island's only hospital and is close to town as well as being a short drive to the airport.
·      Sib's Restaurant, an iconic spot on the island, is a stone's throw away – convenient for that last minute meal when cooking is out of the question.
·      The Pinnacle is in a high, central location that means it is a short drive to world famous Magens Bay, and on the way there you'll pass the islands' only golf course, Mahogany Run.  Plenty of distractions at an arm's length.
The Pinnacle
Featured Listings
SOLD
X1X
28
SOLD
X1X
37
SOLD
X1X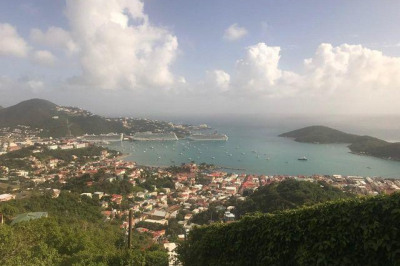 18